Guests Jen Shaffer, Denise Russell, Karen Alexander, and Krista Moser join Pat for a chat!
CLICK THE PLAYER & Listen to Show 419 -- My favorite find at the end!
LISTEN to THIS show right at the player above. 
Jen Shaffer is the talented designer behind PBJ Patterns by Jen. You might have seen her Monthly color challenge, or created her delightful designs.
Visit her at http://patternsbyjen.blogspot.com/
You will recognize Denise Russell's gorgeous quilt designs, many shown by your favorite fabir companies. I really love her use of color and pattern, She is also a regular contributor to the magazine.
Visit her at http://www.piecedbrain.com/
When I saw the remake of an 1876 quilt I had to find out a bit more. It was a project launched by friends Anne Dawson and Karen Alexander. Anne was able to join me to tell me how they came to be so passionate about reproducing this amazing quilt.
Visit her at https://www.lopezislandquiltersstudio.com/introduction-to-the-1876-centennial-quilt-project.htm
Article continues below this Ad
I love seeing what Krista Moser comes up with next. To me her her quilts create illusions with the design and fabric selection. And she loves unusual shapes. Today we'll get a few tips on make quilts the Krista way!
Visit her at https://www.kristamoser.com/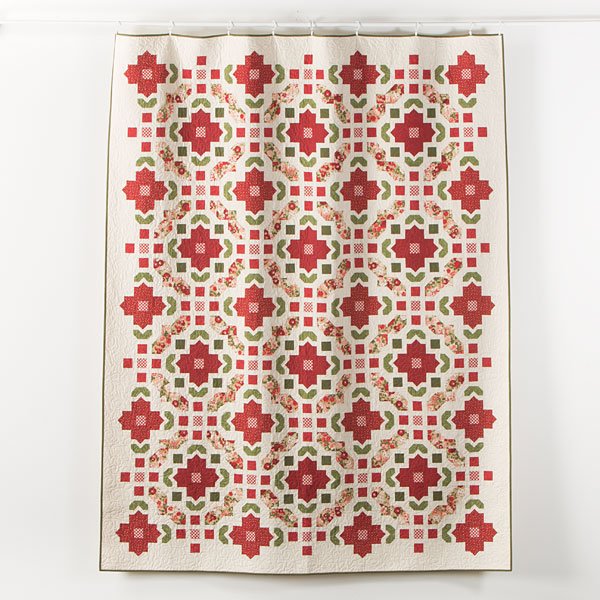 BUY this kit for 40% off, it's called Cherry Grove, it's so beautiful! Click for closeup of the fabric
Check out the Precuts  of the Week SALE  one of my FAVORITE layer cakes is on sale!
--Then Listen ON YOUR COMPUTER or download the PODCAST after the show, the recording is available after 6pm eastern.
--ITUNES subscription available - CLICK HERE To subscribe
--APQ Facebook page CLICK HERE to Join
--My Facebook Quilt Classroom CLICK HERE to Join