Guests Melissa Harris, Arlene Stamper, Marcia Baker, and Karen Miller join Pat for a chat!
CLICK THE PLAYER & Listen to Show 396 -- My WEEKLY FIND is at the end!
LISTEN to THIS show right at the player above.
I have an overview of the podcast in less than 2 min, with subtitles,
let me know if you love this feature!
Arlene Stamper and Melissa Harris are the mother, daughter design team at Quilt Company. If you love applique like I do, then I know you have seen their darling patterns. Have you wondered how they come up with all the amazing project ideas? In this show we gain some insight into how they design and a lot more.
Visit her at http://www.quiltcompany.com/
Many of you know about the Wonderful Quilt show in Houston Texas held in late October or early November called Quilt Festival. Quilts Inc also hosts 2 trade show each year and over my 23 years in the industry I've meet quite a few of the staff. I wanted to focus on Learning so I invited the super talented Marcia Barker, the Director of Education, to give me a few highlights of what is at Quilt Festival for you to learn from.
Visit her at Quilt Festival, details at http://www.quilts.com/
Article continues below this Ad
I'm excited to chat again with Karen Miller of Red Bird Quilt Company. It's been awhile and Karen has been out teaching and creating some amazing programs I want you to know about. One is about thread education as we both love and do projects with Aurifil. So today you'll learn more about thread weights and what they are for.
Visit her at http://www.redbirdquiltco.com/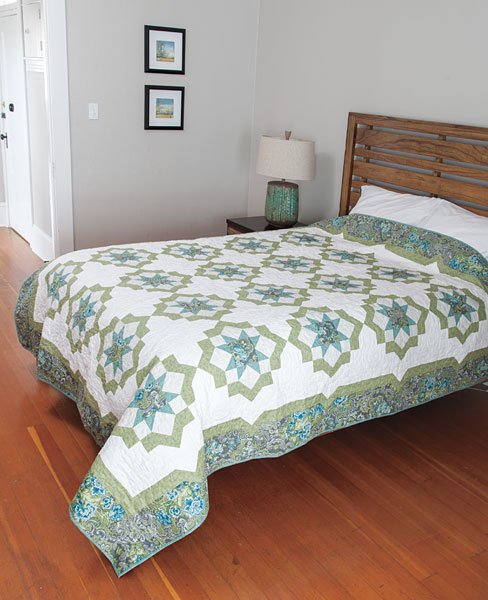 This is just one of the kits I spotted on sale, love the teal and light green together!
--Then Listen ON YOUR COMPUTER or download the PODCAST after the show, the recording is available after 6pm eastern.
--ITUNES subscription available - CLICK HERE To subscribe
--APQ Facebook page CLICK HERE to Join
--My Facebook Quilt Classroom CLICK HERE to Join